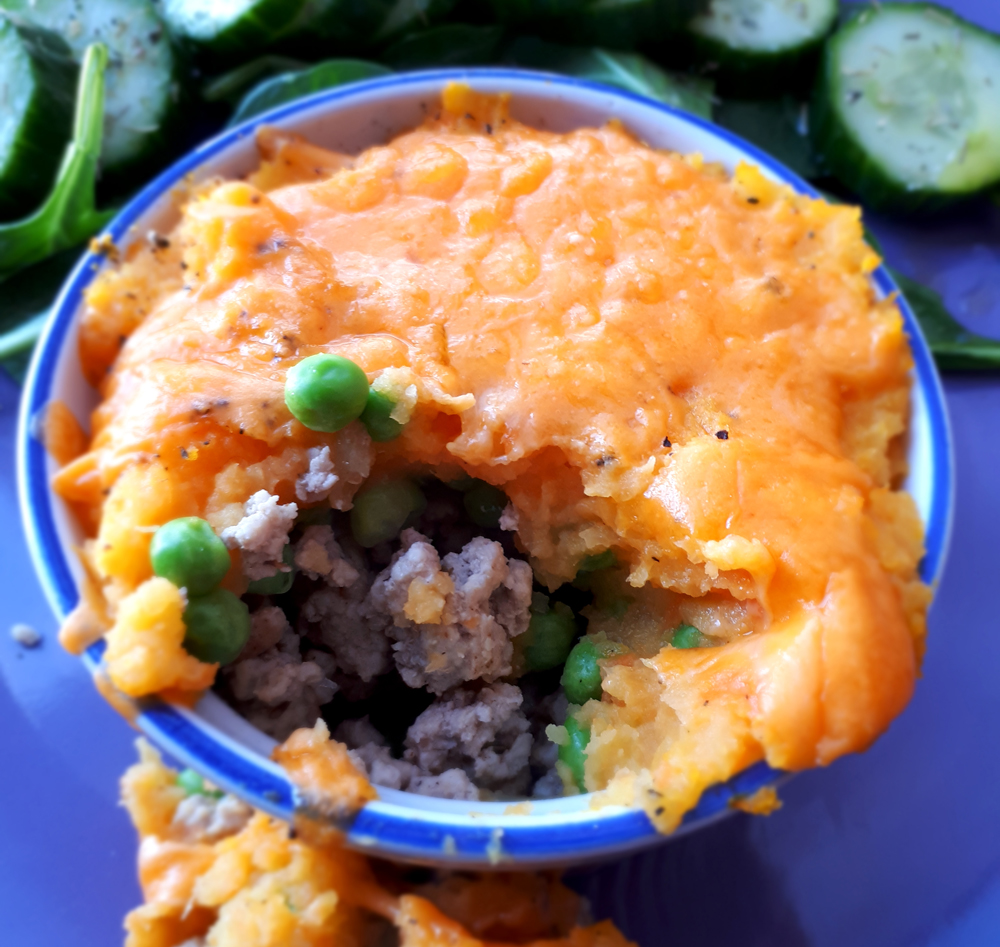 When you embark on the Paleo adventure as I did many years ago, you have to forget potatoes and corn ever existed.
Sadly, one of the staples of Quebec cuisine is this yummy version of a shepherd's pie that's made of beef, corn, and potatoes. Which is why I had to come up with something else.
Although I'm not following any particular diet anymore, some recipes are just too good not to make again, regardless that they are paleo or not. And, well… since I used butter and cheese for this little thing here, it can't be called paleo anymore. Primal is more like it.
Since I don't do paleo, then why don't I just do the original recipe? Because, potatoes and corn are still pretty starchy and full of carbs. I just choose to go the healthier route (to some extent). Same with the meat… I avoid red meat, so that's why I do this with pork instead of beef.
And frankly? I find this to be much better overall. Don't even need to drown it in ketchup!
INGREDIENTS
• 2-3 cups Turnip, diced
• 0.5 cup Carrots, diced
• 0.5 cup Onions, diced
• 1 cup frozen Peas
• 2 slices Bacon, chopped.
• 1.5 pound lean Ground Pork
• 1 cup shredded Cheddar Cheese
• 1 tsp dried Thyme
• 0.5 tsp Garlic Powder
• 0.25 tsp Salt
• Freshly cracked Black Pepper, to taste

INSTRUCTIONS
1. Put the diced turnip and carrots in a pot and boil them until soft.
2. Cook the chopped bacon in a pan. When almost cooked through, take the bacon out, keeping the grease in the pan.
3. Cook the onions in the bacon grease, until translucent and soft.
4. Add the pork, break it down, and let cook until it isn't pink anymore.
5. While it cooks, add the thyme and salt. When it's done, put the bacon back in the pan and crack some pepper. Take off the heat.
6. When the turnip and carrots are soft enough, drain, put in a bowl to mash with the butter.
7. Separate the cooked meat in 6 ramekins.
8. Do the same with the peas, then the mash.
9. Crack some pepper, then finish off by topping the portions with cheese.
10. Bake at 350ºF for 20-25 minutes, then broil until the cheese is brown and bubbly.