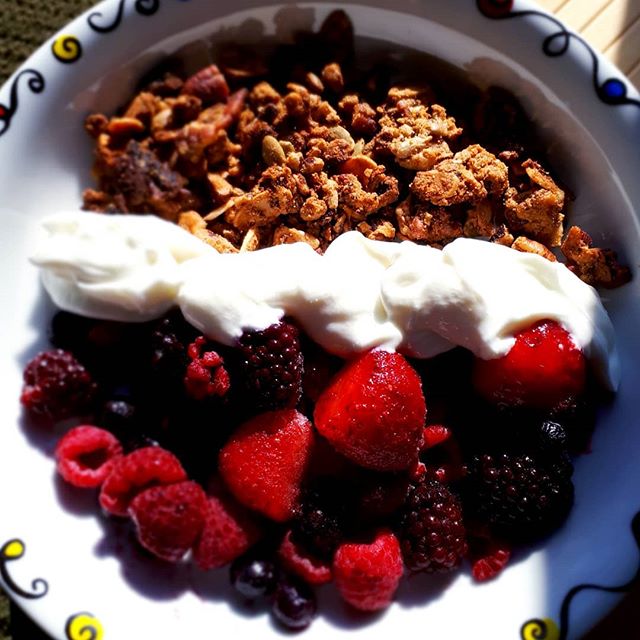 I'm a fan of breakfast. Actually, I'm a fan of breakfast foods. I'm the kind of girl that will eat breakfast for dinner.
If I have to be honest though, since I usually eat two meals a day and have breakfast around 11:00 AM, you could say that I'm a brunch girl. As far as I'm concerned, brunch is life. That, and coffee.
Sadly, I couldn't go an inhale pancakes, french toasts, waffles, and every other brunch delicacies full of fat and sugar on a daily basis (even though I'd love to). I could even go and binge on huge bowls of cereals every day, but that wouldn't be the best of ideas either (especially if said cereals are Froot Loops, Lucky Charms, or those lovely Shreddies with their little frosty side).
Luckily, I love granola. And since I try to avoid grains as much as possible, I was able to find this neat little recipe I'm sharing with you today. It really is my favorite (healthy) breakfast, probably because it does have two of those delicious qualities: (good) fat and (good) sugar (although not that much).
It's great on its own, with fruits, or yogourt, or even both like on the picture above. And you know what? I'm sure it would be amazing on ice cream… not that I'm recommending that you eat ice cream for breakfast.
You can find the original recipe HERE.
But since I modified it, I'm also leaving you with my own version if you'd like to try it. I basically took the original quantities and played around with the nuts and seeds I had on hand. If you decide to do your own mix of nuts and seeds, you'll need to calculate the calories according to your ingredients.
INGREDIENTS
(all the nuts are raw and unsalted)
• 1 cup of Pecans (chopped)
• 1/2 cup of Walnuts (chopped)
• 1/2 cup of slivered Almonds
• 1/2 cup of Pépitas
• 1/2 cup of Sunflower Seeds
• 1 cup of Almond Flour
• 1/2 cup of Coconut (grated, unsweetened)
• 1 1/2 tsp of Cinnamon
• 1/4 cup of Maple Syrup
• 1/4 cup of Coconut Oil (melted)
• 2 Tbsp of Chia Seeds

INSTRUCTIONS
1. Mix everything together.
2. Spread the mix on a cooking sheet lined with parchment paper.
3. Bake at 350º F for 20-25 minutes.
4. When it's cold, break the granola in small pieces.

Store in an airtight container in the fridge.

Bon appetit!