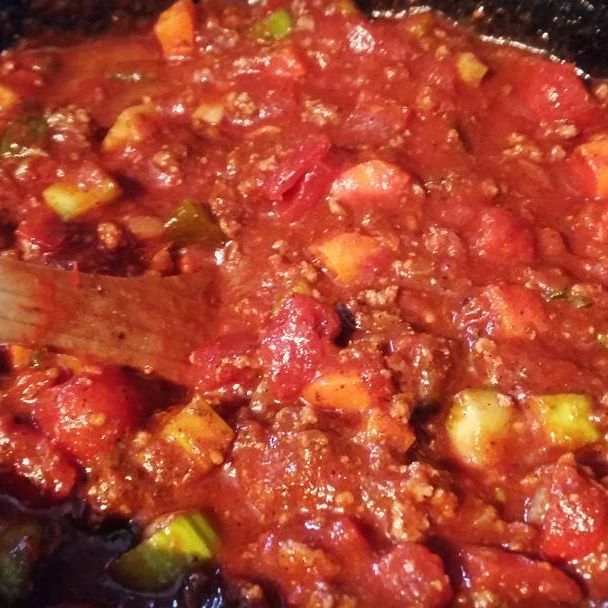 Although ideal for a cold winter night, I find chili to be good enough to be enjoyed all year 'round. Here's my own version, a combination of about ten thousand different recipes.
I know it's not the best thing in the world, but I do like to eat this with a bit of cheese on top and dip some corn chips in it. When I have neither and am lucky enough to have Doritos in the house, then I crumble some on top of my chili.
Well… I did this once. And it was surprisingly good. Good enough to make sure I have a bag of Doritos lying around for the next time I make chili!
WARNING: This is not super spicy, as I have the tastebuds of a wimp. Please do not hesitate to double the spices if you love it when your food incinerates your insides.
INGREDIENTS:
(All veggies are diced, except where indicated)
• 1 cup of Carrots (I had more because I can't count)
• 1 cup of Celery
• 1 Green Pepper
• 1 Red Pepper
• 1-2 Jalapeño Pepper(s) (minced)
• 1 Onion (medium size)
• 3-4 Garlic Cloves (minced)
• 2 28oz cans of Crushed Tomatoes
• 1 28oz can of Diced Tomatoes
• 1 15oz can of Red Kidney Beans
• 2 pounds of Ground Turkey
• 1 Tbsp of Olive Oil
• 3 Tbsp of Chili Powder
• 2 Tbsp of Ground Cumin
• 1 Tbsp of Dried Oregano
• 2 Tbsp of Cocoa Powder, unsweetened
• 1 tsp of Salt
• 1 tsp of Cayenne Pepper (more if you like it hotter)

INSTRUCTIONS
1. Chop all vegetables.
2. Drain the beans & rinse them.
3. In a pan, saute onions and garlic in olive oil for a couple of minutes.
4. Add the ground turkey and cook until no longer pink.
5. Drain the liquid from the pan, then transfer the meat in the crockpot.
6. Add everything else to the crockpot and mix well.
7. Let simmer everything on LOW for 8 hours.

Yields 8 portions of 390 Calories.

Bon appetit!