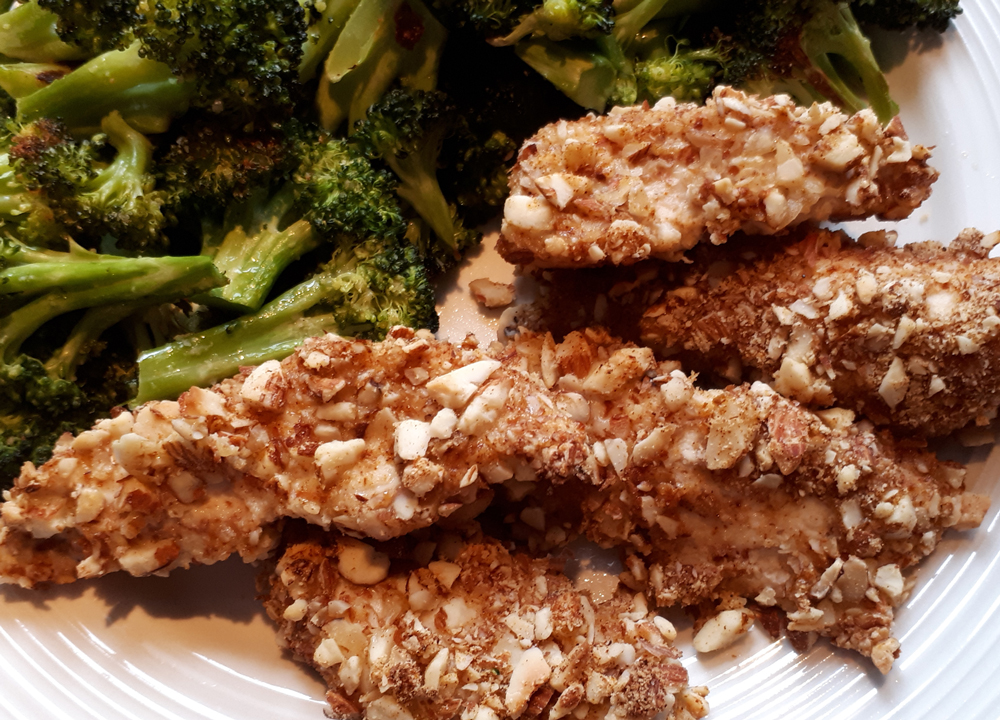 Chicken nuggets, chicken fingers, chicken tenders, breaded chicken…
So many names, and just as many different recipes. Still, they usually all have something in common: they're not really healthy. Especially those we can buy at the grocery store or in a restaurant.
Isn't it mostly the case anyway?
I might have found and made this recipe while I was in full paleo mode, I really don't think you have to be a believer to do this. Because unless you're allergic or absolutely hate almonds, this version of the classic "nugget" is delicious enough to want to get interested in it.
The simplicity of the ingredients and how easy it is to make should also be good reasons to want to try it. And if paprika doesn't do it for you, you can always go and uses the spices you like.
Next time, I'll probably be trying a cajun version… I have a bottle of those spices in my cupboard, I really should be using them.
INGREDIENTS:
• 1 cup of raw almonds
• 1 tsp of paprika
• 1 tsp of onion powder
• 1 tsp of garlic powder
• 1 tsp of salt
• 4 chicken breasts (approx. 600g)
• 1 egg

INSTRUCTIONS:
1. Ground the almonds to desired consistency.
2. Add the paprika, onion powder, garlic powder, and the salt to the almonds. Mix well.
3. Cut the chicken in pieces, whatever size you prefer.
4. Whisk the egg in a bowl.
5. Dip the chicken pieces in the egg, then coat with the almond "breading".
6. Bake at 350ºF for 15-20 minutes. Chicken is safe to eat when the internal temperature gets to 165ºF (75ºC).

Yields 4 portions.