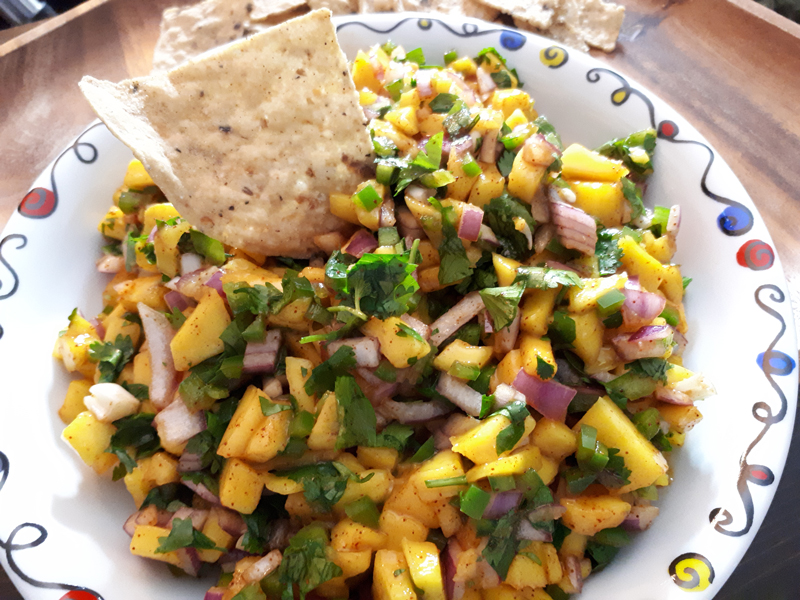 Or, at the very least, could we have a decent spring? I don't know where YOU are, but here in Quebec, we're in the middle of May and wearing hats, scarves, and even gloves can be very much justified. I don't think I've ever seen this happen.
Or if I did, I forgot about it. I mean, who would want to remember such shitty weather, am I right?
Finding mangos on sale at my local market was like a sunbeam shining directly on me. I KNEW what I was in the mood for in an instant: Mango salsa! And I'd be using it to bake some tasty chicken breasts.
I'm a fan of salsa and since I found a mango variety at the grocery store years ago, I've been obsessed with this flavor. Both as a "dip" and as a way to bake chicken or fish in an interesting way. I mean… that stuff over salmon? Talk about delectable.
It's so easy to make that I don't even bother looking for mango salsa at the store. And, well, I do find it tastes better homemade. I mean… isn't it always the case? And yes, this little beauty here is amazing with tortilla chips.
Pretty easy to just pop a bag open and go to town on the stuff, let me tell you!
INGREDIENTS:
• 2 cups of Mangos, diced (about 3 mangos)
• 1 cup of Red Onions, diced
• 2 Jalapeño Peppers, minced
• 1/2 cup of Lime Juice (3-4 limes)
• 1/2 cup of Cilantro, chopped
• 1/2 tsp of Salt
• 1 tsp of Chili Powder
• 1 tsp of Ground Cumin

INSTRUCTIONS:
1. Chop the mangos and onion in small dices. Mix together in a bowl.
2. Mince the jalapeño peppers, leaving the seeds out. Add to the mangos and onions.
3. Juice the limes, then pour the juice over the other ingredients.
4. Chop the cilantro and add to the mix.
5. Add the salt and spices. Stir everything together.
6. Let the flavors come together for a couple of hours (in the fridge, in an airtight container) before serving or using in a recipe.