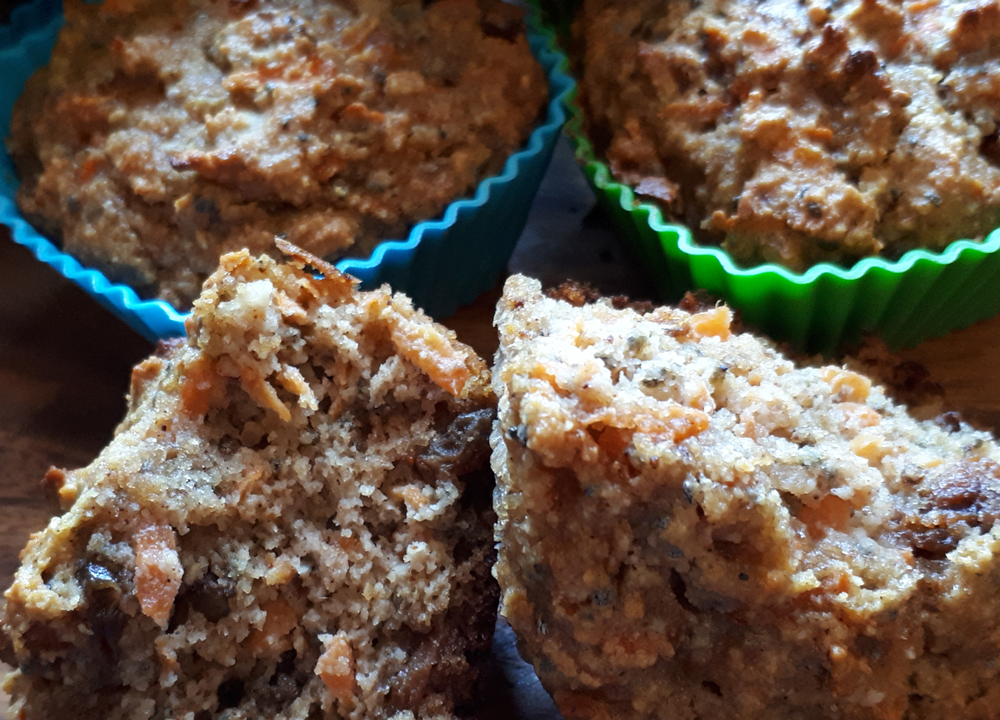 I really like muffins. They're a great breakfast and it's easy to just go crazy with the ingredients, go with whatever you have on hand or feel like eating.
If when I made those I was kind of craving carrot cake, it doesn't mean next time I won't be in the mood for chocolate chips, or berries, or even lemon and poppy seeds. Except I think this very recipe is better with "nutty" variations.
As a general rule, I do prefer flavors that pair well with nuts, especially if I'm to eat it in the morning. If only to get that good fat and proteins. Which is also why I try to add chia seeds whenever I can. (I mean, I don't usually add them to dessert. Maybe I should?)
Don't worry, the texture isn't too eggy, nor is it like eating sawdust. The muffins are soft, and tasty, and altogether satisfying. If you like that sort of stuff, that is.
INGREDIENTS:
• 2 cups Almond Flour
• 1 tsp Cinnamon
• 1 tsp Nutmeg
• 1/2 tsp Baking Soda
• 1/8 tsp Salt
• 3 Eggs
• 1/4 cup Honey
• 1/4 cup Coconut Oil (melted)
• 1/2 tsp Vanilla
• 1/2 cup Walnuts (chopped)
• 1/2 cup Raisins
• 1 cup Carrots (shredded)
• 2 Tbsp Chia Seeds

INSTRUCTIONS:
1. Mix all dry ingredients together (Almond Flour, Cinnamon, Nutmeg, Baking Soda, and Salt)
2. In a separate bowl, mix the Eggs, Honey, melted Coconut Oil, and Vanilla together.
3. Add the dry ingredients to the wet ones. Mix until well combined.
4. Add the Walnuts and Raisins. Mix well.
5. Add the Carrots and Chia Seeds. Mix well.
6. Bake at 350ºF for 20-25 minutes.

Yields 9 muffins.